To get to Japan was a little tricky. For the Ferry to Osaka I had to buy a return ticket, or show another proof to leave Japan again. The Company to Fukuoka, I had to sign a weird letter, that I had do go home, if I would stuck in the immigration to Japan… Good Luck I was not alone with this problem, Melissa from Canada was in the same situation, and together we had enough courage to take the risk. After a 4-hours Speed-boat trip in Japan then, It was quite easy, just say something and yes, we will leave Japan together… 🙂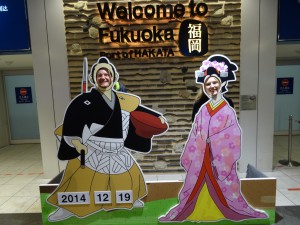 Hiroshima was really interesting, but the museum also very brutal. To see mostly everything about the results and hear a lot of personally stories whom survived the A-Bomb is really hard stuff. But the Japanese never judge the USA directly, they want only make that's never happens again…
In Osaka I spent the Christmas-time for my Chinese Visa, and I found out, that my plan to leave with the Ferry from Kobe to Tianjin (China) doesn't work, because this service doesn't exist anymore… anyway, on the official Website there is this Service still available.. 🙂 One evening I visited the Castle with the 3-d Visual show, and I was impressed, even it was too crowded for me.
After I got my Visa, i went to Tokio. phooaa… after arriving, I decided to spend only 2 nights there, I felt me too small… 🙂 So I went for new year to Hakuba for Skiiing and visiting the Snow Monkeys, who take the Onsen in wintertime for keep warm… cute!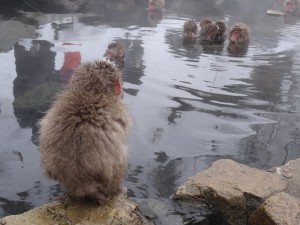 For Kyoto I had only one Night left, and Yes, this is not much… and over the days off for new year, the temples are getting crowded, and then I don't feel me very comfortable anymore.

So then, for all of you: Happy new Year!