Welcome to the World of the golden Pagodas,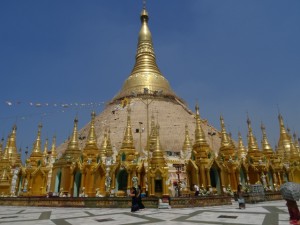 lunghis (the skirt for the mans),
best toilets ever,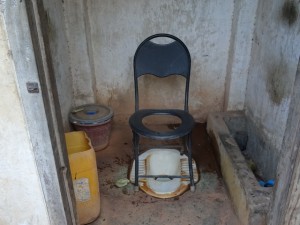 Bethel nut (makes beautiful red teeth, a heaven for dentists),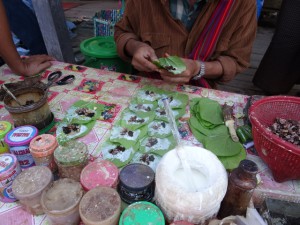 and best translations ever!
That's all Myanmar, but not only of course, so I will explain a little bit of my experiences and the new records!
The way from Myawaddy down to Hpa-an after crossing the border was only every second day possible, because of lot of accidents in the past. So we rent with a positive meaning a shared taxi and enjoyed the ride. There we decide to visit the nearby caves and pagodas by our self, so we rent a motorcycle and by navigating with my maps.me app and GPS we found they really easy!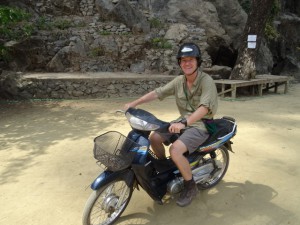 With a boat trip we went to Mawlamyine to get the worst Guesthouse ever on my trip, and for 25 USD it was also to expensive for what you get. But it was the only one we could book one day ahead… Nearby was the biggest lying buddha in the world (see main picture) located and, of course, some stupas and Buddhas.
Then we decided to take a Train directly o Rangon, the biggest (but not main) City in Myanmar, where we met Jodi, a friend of mine, who I met in Japan. And yes, the shwedagon pagoda we didn't missed of course, where I had to buy a lounghi, because I forgot to take the long pants with me. But it was not bad, because when it is really hot, you do not sweat much on the lower region of the body… 😀
Because we want to go once to the Beach, and not pay to much for a night, we went to Chaungtha, but we had to make a stop in Pathein, for some food and a Cigar for Chris.
We arrived after sunset and didn't booked a Guesthouse, what was a mistake.  We asked maybe on every hotel but all what we got was the answer: full… At least after 2 hours of searching, we found, at least really a good room (with shared bathroom for the first night), but it was hard enough…
After two nights we went back to Pathein, now for a night, to search the umbrella factory, but we did not success… 🙁 On the way to the north tho Nyaung U (near Bagan) we made a stop in Pyay because we had no idea how to get further, there were no descriptions in our guidebooks… But finally we arrived Nyanung U (after a misunderstanding with the busdriver, we had to change the Bus in Magway), and went by bicycle (of course we take NOT an e-Bike!) to the big region full of Pagodas, impressive!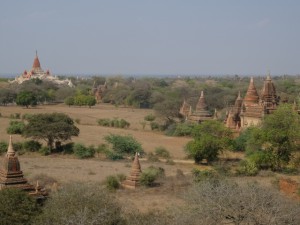 Then by boat to Mandalay, to a slowly, but big City, with the biggest book of the world, a 2 x 2 km big palace complex and the mustache brothers with some regime-critically jokes.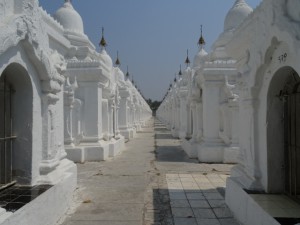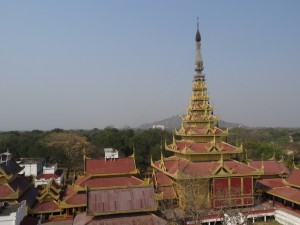 After Mandalay we had a really good bus to Nyaungshwe, located by the Inlay lake, where we visit the lake by boat (of course) a hot spring, and a winery (the white wine was actually really good!) by bicycle.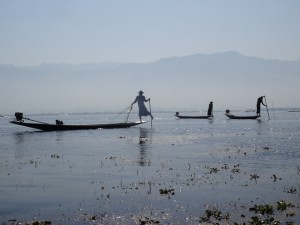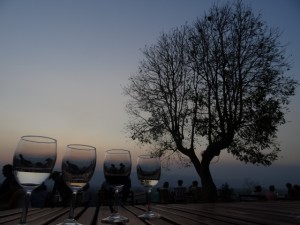 Then we had to think about how and where to leave Myanmar, because our Visa was ending nearby. And so we want to have a last train ride in Myanmar to Bago, a 27 Hours trip. Until Thazi the train was shaking from the left to the right. But the landscape was fantastic! In Thazi nearby every tourist left the train, and we figured out why very fast. No, we couldn't sleep one minute, because the whole wagon was jumping (I am not joking!) on the rails, and we could see the people bouncing like us, mostly over 50 cm up and down. It was funny, yes. But also a little bit tiring for the whole night long, every 10 minutes… I will never forget this Train ride…
The Hotel in Bago was not on on the same place located as the map in the Booking app showed, so we were really outside of the city, and there was not really something else to see as more Buddhas, Pagodas and a Lake…
I Kinpun finally we could do something for our body. Up in the hill is located a golden rock, where every 10 minutes drives a delivery truck full of pilgrims and tourists.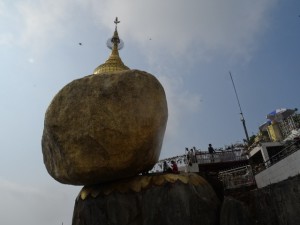 The way back we take a walk and we did it in 2.5 hours instead of the recommended 4 hours, but we had to, because we forgot the flashlight and after arriving in the city the sunset was already over.
The Nightbus ride from Mawlamyine to Dawei was the worst I ever had. At first we paid for a Air Condition Bus, we got nothing like that. We had not space for our luggage, first they thought to put the backpack under our legs…  The girl behind me was puking on the floor, and the juice was floating between my feeds to the front. It began to smell really awful. A Baby was crying from time to time the whole night long. And the road was under bad condition… Nope, not sleeping again at all.. But our Hotel was really good in Dawei, and it worth to stop there, because there was a buddha with 6 fingers!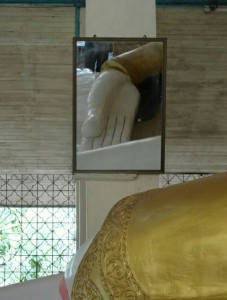 Then we took a taxi back to the border to thailand, and had to say goodbye to the beautiful country Myanmar. I enjoyed really much, and I have to say thank you Chris to share the time with me! It was fun!