Welcome to the Country of…
Crazy train riding,
A tons of bats,
Great Artists,
The biggest religious building in the world,
Holy Craps,
The Pepperland,
Great Caves to discover,
Irawadi dolphins,
And nice sunsets over the Mekong.
The Border crossing was not that difficult, and arrived in Battambang i found fast a good hotel… Okay, I had no AC nor a lavatory, but it didn't matter. First day I made a Tuk-tuk trip to the Bamboo train, a Winery, Phnom Banan, Phnom Sampou and to the Bat cave, where thousands of Bats were coming out after sunset.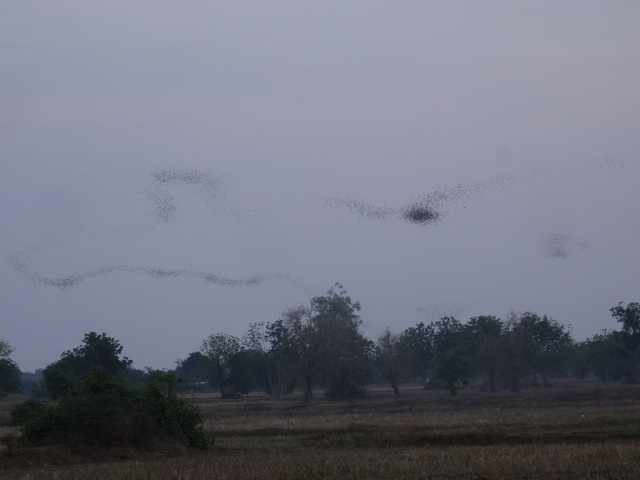 In the night I visited the Phare-Ponleu-Selpak circus school. For that they all are children it was really good! Amazing show with a lot of jokes.
Next station was Siem Reap, where nearby the biggest religious building in the world Angkor wat is located, but first I was visiting the Museum and then the outer temples. I found the nice Chinese roommate April to share a Tuk-tuk.
I was surprised by the not-so-crowded temples, only once I had to escape… The Site is so big and built in a rainforest, what a feeling of discovering like Indiana jones comes near, but actually one temple was the coulisse of the movie Tomb Raider.
After a great Party I needed a rest at the beach, so I went, with a short stop in Phnom Penh, to Sihanoukville. But I spend there only a night, because I preferred to spend more time in Kep, what was a great Idea.
The Guesthouse was owned by a Swiss guy, and I had a really great time there in the national park, on the rabbit island and on the motorcycle trip, even I had a small accident and took some injuries with me.
Back in Phnom Penh I visited the S-21, Tuol Sleng museum, where from 1975 to 1979  the khmer rouge killed sometimes 100 people a day. The stories about the victims was ha hard work for me…
On the way up to Laos I made a brake in Kratie, to watch the Irawadi dolphins together with Juliette and Régine, and celebrate the New Year!
So at all: happy new Year!