Finally I can write my last update of my trip. The last update, because I finished my trip and I'm already at home in Switzerland searching a job…
The pictures are now all uploaded in my page here, and are waiting for comments from you!
After arriving in Fremantle I went to the prison. Don't worry, I didn't worked against law, but had to visit the museum in Fremantle, because it is a very famous one in down under and a UNESCO World Heritage Site because of its history. Initially known as the Convict Establishment, it was constructed as a prison for convicts, using convict labour, between 1851 and 1859. They had one of the one of the toughest Jobs in one of the driest region of the world!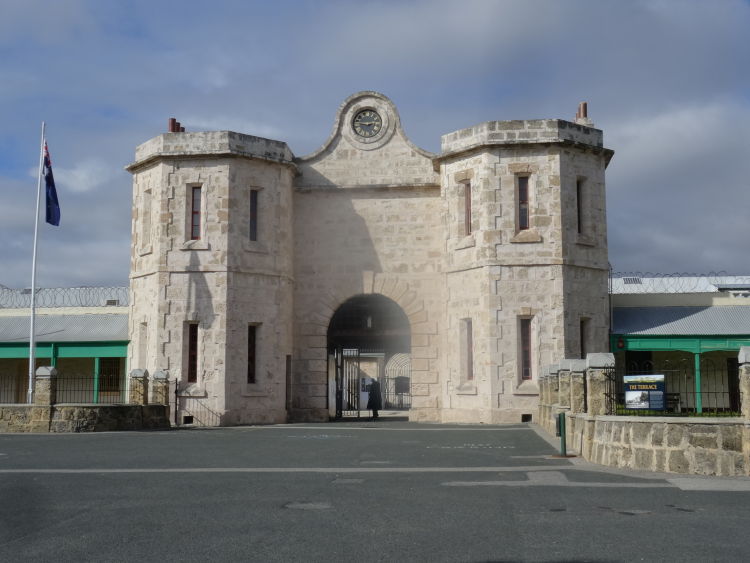 From Fremantle I took a boat to Perth, where I was in two different Hostels and something about 4 days. I have needed this time to work out the shock of the difference of cultural, temperature, humidly an prices between south east Asia and Australia… For once, I had to organize everything by myself, nobody wants to sell me a tour, a ride on a rickshaw or some fruits… And I was not anymore very handsome for the locals, and nobody wanted to take a picture with me… :'-(
So I had to check and compare the prices online for the Pinnacles Tour, and I was able to book the Tour as well online! That time it was special for me! 😀
We had a great guide and a learnt a lot about the Marsupials (I just say one thing: different sizes of nippels! :-P) and that this region has the biggest biodiversity of the world!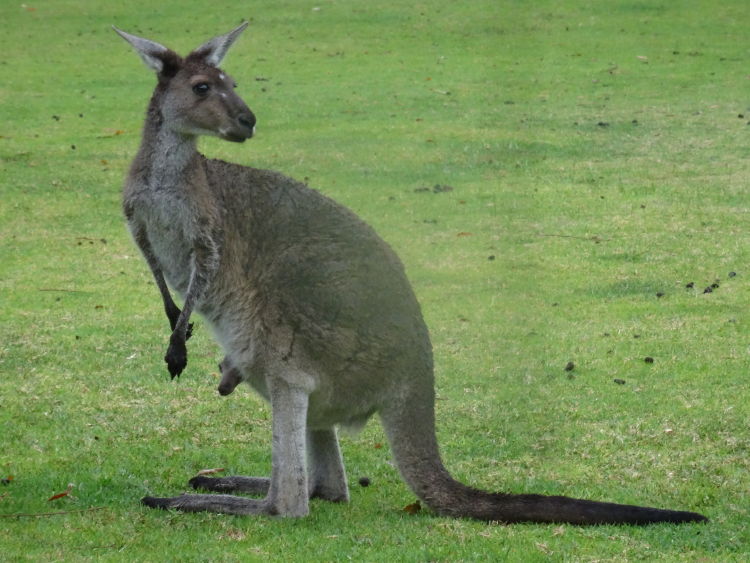 The next day I took the prospector, a train, to Kalgoorlie and its Super pit of a gold mine nearby. Actually there ist nothing really more to see beside a big hole in the land with big machines inside…
Here I really recognized, that Australia is not really a good Country for a lonesome Backpacker, which decided to travel by land without any plans, because I had to stay 4 Days longer to wait for the Indian Pacific Train to Port Augusta: He runs only once a week, and there is no other public transportation. And I didn't found a travel mate or a lift to the east because winter time. So then, it was a little bit a waste of time…
In Port Augusta I spent only one night, because I arrived very early in the morning about 2 AM, and I got luck to make a reservation for a Room, because the streets where empty and all receptions closed on this time.
In the evening I took a greyhound bus to Alice Springs, and the couch was really comfortable, with USB charging ports!
Alice Springs is the starting point for tours to Kata Tjuta and Uluru (Ayers Rock), I think the biggest sandstone formation in the world, then what you see on the Pictures, is only about 20% of the whole formation… Yes, the rock reaches about 6km deep!
A lot of People want to climb the ULURU, but it is a sacred site of the Aboriginal people Anangu, the conflict is still going.
But anyways, the trip was really great, and I cannot describe all my impressions here. More fotos you will see here to get a imagination…
After some last beers with almost the whole group, we saw some guys starting a fight in the bar, and soon the bottles were flying through the room… We decided to leave the place quickly.
On the next Morning I took a greyhound bus back south to Adelaide (about 24 hours drive), from where I start to plan a trip to the Kangoroo Island for 3 nights. On the Island was much to see, for example a colony of seals,
or the remarkable rocks,
or a Trip with a bike,
and THIS Westernmill of corse 😛
I was surpriced, that it was easier to find following street sign instead one with a Kangoroo:
So then, after enjoying the island I had to move further, and I decided to go over the Great Ocean Road to Melbourne and skip Sidney, This road starts officially in Warrnambool, but nobody didn't know how to go there. First i asked around in the busterminal, and they told me to go to a hostel, they could have more possiblities… anyway, In the end i found the best connection on Internet by myself, and told to the office in the hostel to book me a bus to Mount Gambier, where I slept two nights in a prison.
I could walk around in the old prison a and read the information plates, of corse there were nobody arrested anymore, but the feeling was great.
Warrnambool is next to the see, and there would be possible to see whales, but unfortunately I wasn't able to see any of this big animals, even when the people in the lookout told me where they are… Normally they make not so spectacular jumps or showing their tales before diving again. But I saw some beautiful rainbows and had a nice time with sunny days.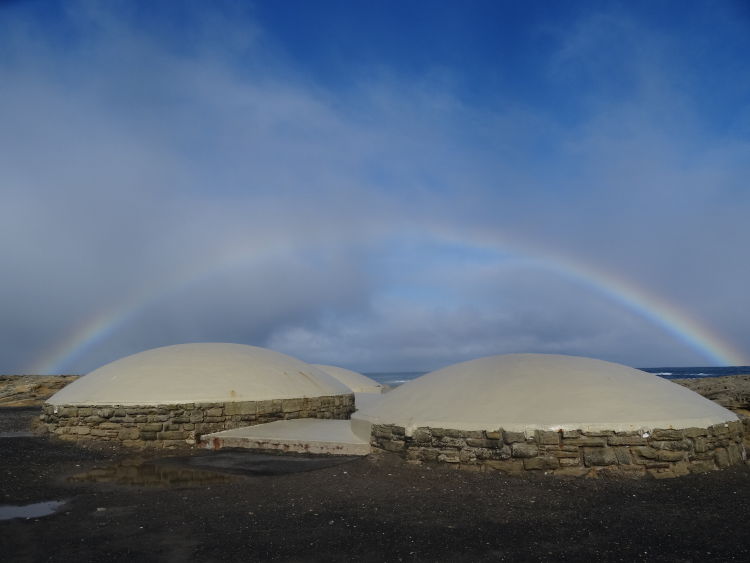 ---
---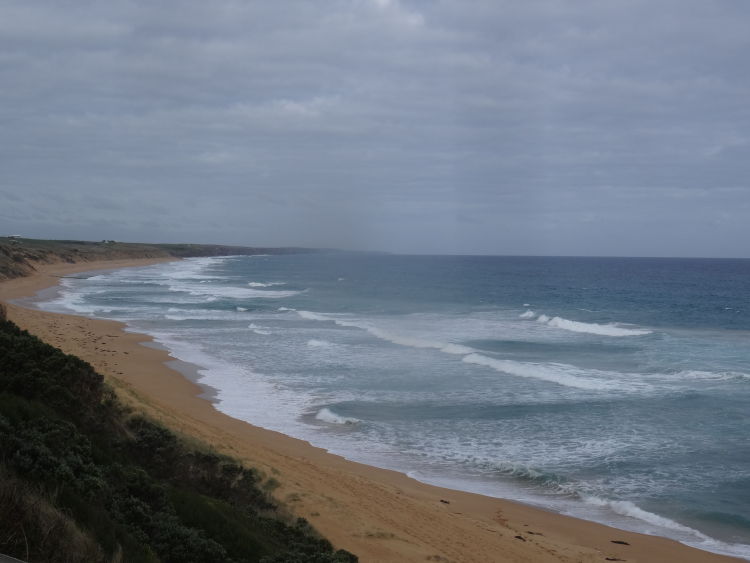 For the Great Ocean Road I took a common public bus, which stops on every nice place for several minutes. Yes, sometimes I had like to spend more time, but on the other side it was better than with a big amount of people, because the feeling of see the places almost alone was great.
In Apollo Bay (my most southernst Point on my Trip!) I had to change the bus and wait for something about 3 hours, and the tourist information center was not able to carry my bag for this short time and there were nowhere lockers available, so I had to carry my whole stuff with myself, and could not make a longer hike. Whatever, later in Melbourne, after changing in Geelong to a train, Esther picked me up on the train station, and we went to their house, where Marc was arriving soon after we arrived. Together we had a really nice time which was perfect for ending my trip. After I visited Melbourne a little bit by myself, we went camping to the most eastern point of my trip, we have seen the most highest tree in Virginia, waching the flying foxes during the dusk in a park and had eaten great vegetarian food back in Melbourne.
Before I went to the Airport, I got time to walk trough the streets and watching some street arts.
Thanks to you both, to make my trip perfect!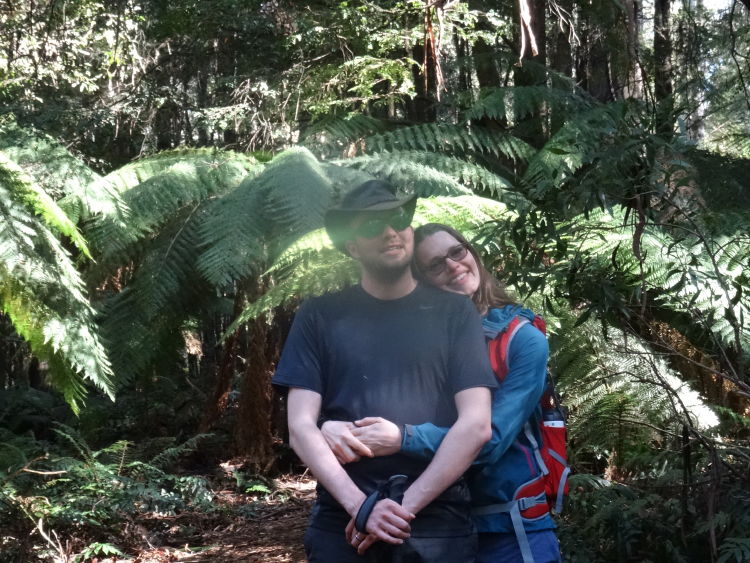 So then, please leave any more comments and I hope to see you (all who are reading this stories) again here in Switzerland if not done already! 😀
See you next trip…
bye