Hi @ all! Yes, I made it! I'm writing now this text in Australia, and I went to here without to take a plane! But first one by one.
The fotos are now not only visible in my dropbox, no as well in the gallery, where you can leave some comments to a pictures…
First what I made in Malakka was finding a Hostel, but because of the weekend my favorite one was full already, but I found another one easily after 15 minutes, and this one has  windows to the outside! 🙂
Next thing was to decide, where will do next, because I still had one Week left before my cargo ship leaves from Singapore. So I decided to hang out (again) at the beach for the last time, but this time to another island than last time, but my starting point was as well in Mersing.
Arrived in Pulau Besar I saw, that I got a cheap room (homestay) but there were not really cheap places to eat, around, so after the 5 Days there, I run almost out of money… The Island is fantastic. Beautiful landscape, great and lonesome beaches (unfortunately with lots of sandflies), some good (But not really perfect, and sometimes with seabugs) snorkeling spots. But anyway, for chill out It was perfect for me, I got enought Sun, Beach and Jungle for some time.
On the same Way like something about 2.5 Month ago I went  directly to Singapore to prepare my stuff and watch last time the Visual show in Marina Bay Sands, before leaving to the terminal of my cargo ship.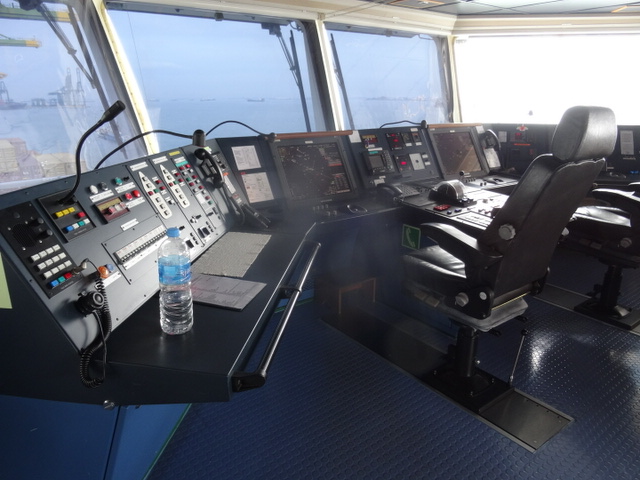 The bridge of the Vessel
The voyage to AUS was long, but I was really interested and got some information about the ship like safety, machine and so on, and I had as well lot to read and enaught movies for not getting bored…
Now on my final country, continent and destination (hey, it is getting colder again here!) I have only one real challange more: I want to go to Melbourne to visit my friend Marc from Switzerland, and yes, of corse without flying.