That's now going fast. Yeah, It's only something about 6000 Km between the last News… 🙂 actually, its only because it was sunny the whole time… In Irkutsk I met Late from Finland and together we went to Olchon, the biggest Island in the biggest and deepest freshwater lake of the world. Incredible, and (yes Late) amazing! The water was in a beautiful blue and the sky was very clear.
Some Facts: all rivers of the world would need 1 year to fill it up, mostly 20% from all freshwater on earth is there.
In Ulan Ude Late was Late heading to Mongolia, and I went to a nearby lama monastery, where the buildings are painted in a lot of colors. I think I will see this kind of Buildings now more often..
Nearby each city in Russian has a sculpture from Lenin, and in Ulan Ude there its a big head on the square…
..where you can make some funny pictures about it…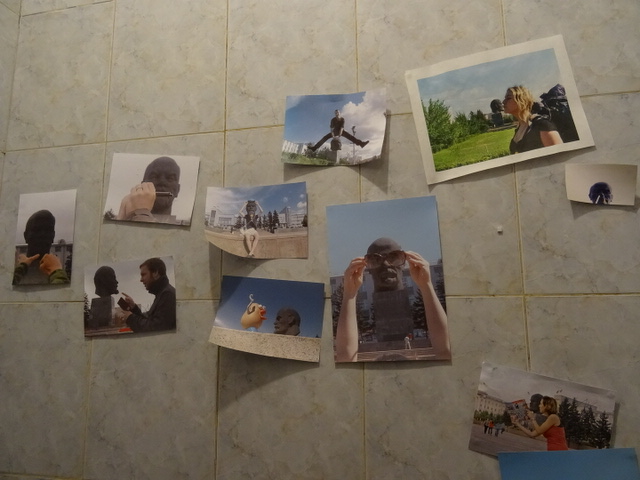 Further in Khabarovsk, after a train-trip over 2 Days and a lot of Noodles, see main Picture, is the longest bridge in the Transibirian railroute. I spend the day with Anton, who could speak pretty good Spanish, it was a great time!
When I arrived in Wladiwostok, I thought to spend 2 Nights there, so I went to the Hostel and put my bag pack there for getting the ticket to south Korea. But in the Office they told me, that the Ferry is leaving in Wintertime every Tuesday instead of Thursday, so I had to buy a ticket for the same day, to not get into trouble with my Visa. So I left Russia i little bit to fast for my meaning, I would have spent more time in Wladiwostok, what a pity and what a luck, that I got there just in Time! 🙂
So I'm now in South Korea and the difference to Russia is immense. If you want to know more, ask me something and leave a comment or a question in my Guestbook! 🙂
The Photo from Russia are all in the Gallery and are awaiting for your comments!
The route is also actualized, so you will see where i was travelling trough.
Keep going!