From Singapore i went to Batam, an Indonesian Holiday island for Singaporeans nearby. There I hoped to find there in a pelni office some information about the ferries to Jakarta. I found! But unfortunately the ferry is leaving every wednesday, and I arrived there on friday… But they said, after asking several times, that on a other Island will leave another ferry on Sunday! Great, so hanging around a little bit in Batam, and I found other people, who asking me everything. After a while travelling in Indonesia this is now normal for me, but there I was surprised about the difference to Singapore in this case…
Just arrived in Kijang, a guy called gagas invited me to sleep in his house and took me to a nearby cockfight. Everyone there like that, but I felt a little bit uncomfortable by watching 3 rounds of the fight. It was weird for me.
Then on the ferry I met again lots of people, because travelling with economy class, and being the only boule (it means white people) on the ship.
Arrived in Jakarta, I knew that I wouldn't stay here for a long time, first because I want to meet my brother and second because of the traffic. For me it is just a Capitol to skip…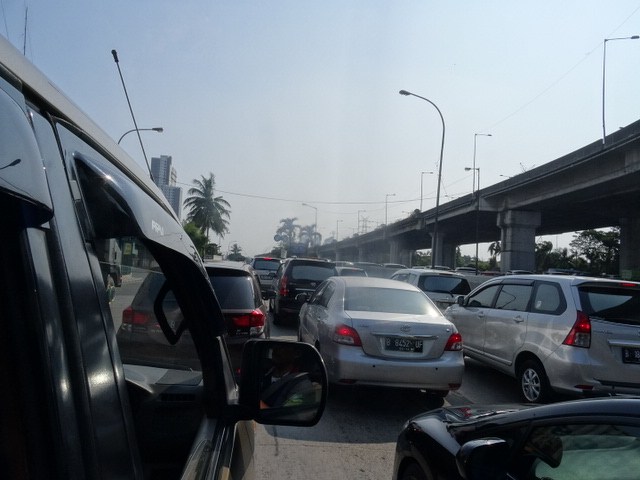 I got a warm welcome in Yogja from my brother Koni, and finally I could check one of my big goals of my trip.
I was hanging around much time with Anja, the niece of Koni, she is soo sweet, incredible.
But sometimes she is transforming to "Dramanja", then when she doesn't get what she want, but I show here better only the nice Pictures.
With Koni I made as well some activities, like a Motorbike, as well a Bicycle tour with Andi, another expat trough the neighborhoods.
To the temples Prambanan (Hindu) and Borobudur (Buddhism) I went by myself.
Ones was a food festival in the Street of Koni's restaurant, and they made a really great competitions. Unfortunately the team of Easy GoIn' didn't won a reward, but I thought, it was the nicest one of all.
In the end, I met another Girl, she is called Riri, from Jogya, and we spent some time together, like watching the new Jurassic World movie or having a beer together. Thanks for the nice time, Riri!
Then we went with the whole Family to Karimun Jawa, an Island in the north with beautiful beaches and not so great food. Even I was a little sick there, I could enjoy the nice atmosphere and the family life. Thanks to Koni, Sherly, Anja and Arvin!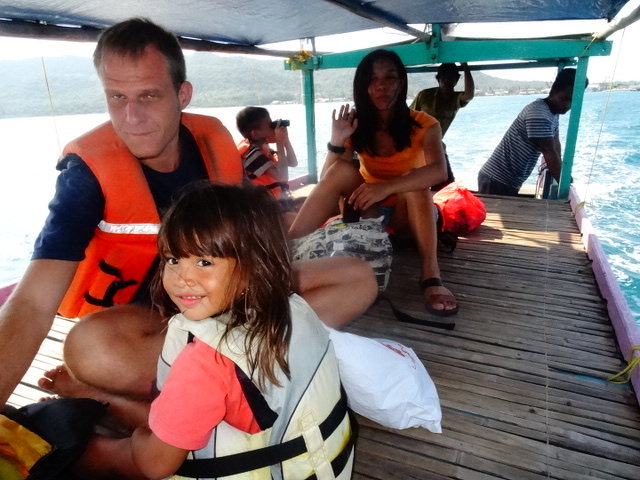 Then it was time to say goodbye, then I went to discover the west Java and Bali. First stop was Malang after a overnight train ride. But I didn't went to the volcano bromo, because I met some nice people for sharing a trip to Ijen, another volcano, where the miners are working hard for the money. They get something about 900 Rupiahs (less than 0.1$) for a Kilo of sulfur, and they carry sometimes over 90 Kilos on they're shoulders from the mining place up to the crater rim and down to the town. I was really exhausted after the hike, without 90 kilos on my shoulders! But it was really beautiful to see the blue fire coming out of the mining place and see the sunrise.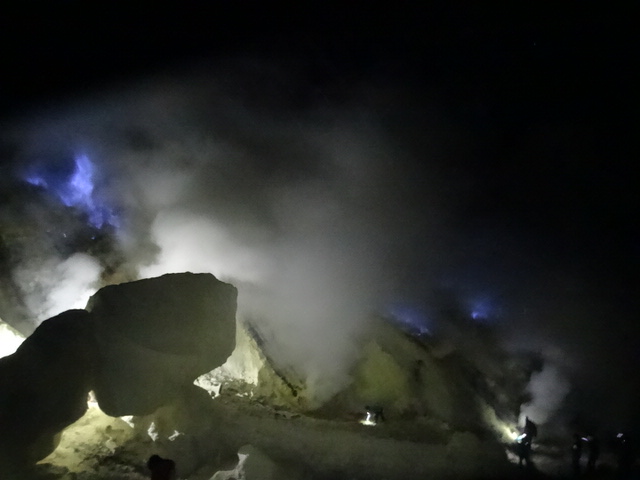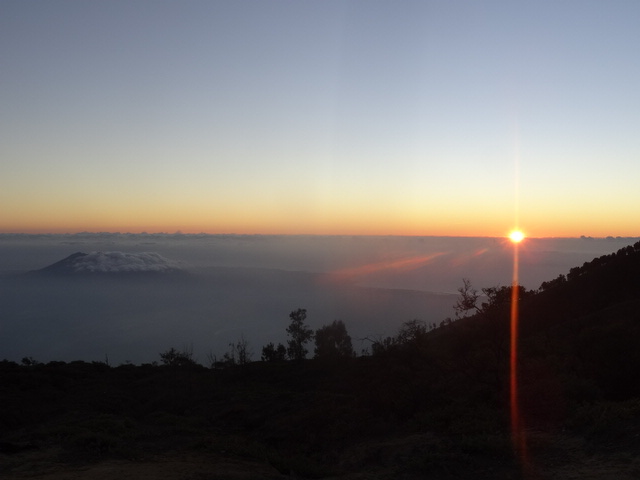 Afterwards I went directly to Kota, Bali, for having a Surfing lesson. There I remarked, that I'm not really fit, because I don't make much sport while travelling. But it was still fun, and I could catch some (of course small) waves.
Because I already have booked a Cargo ship from Singapore to Freemantle, I didn't went to search at the port in Denpasar for a sailing ship, but I recognized that I have to make me on the way back, because I decided to travel over Sumatra.
In 30 hours and 7 different conveyances (bus-ferry-train-train-bus-bus-bus) I arrived in Pacitan, on the coast nearby Jogjakarta.
In the night it is really quiet and peaceful here. But I've to move on, let's see my brother again for a short time, before heading to Sumatra!